At Union Organics, we aim to unite men and nature!
We firmly believe that everyone deserves healthy food that is produced without using synthetic chemical fertilizers and harmful pesticides. Toxic chemicals used in conventional farming that kill pests and destroy weed end up in the food that we eat, the water that we drink and the air that we breathe. Therefore, Union Organics passionately promotes organic farming that is not only environmentally friendly, but also economically viable for farmers.
After more than five years of research, we have successfully come up with internationally patented 100% organic agriculture inputs that can significantly enhance the quality of crops as well as the soil in a completely natural way.
Since our inception, we have provided innovative agriculture solutions to thousands of farmers in India and across the globe. Whether you are a conventional farmer who is transitioning towards a more responsible and sustainable way of farming or someone who is proudly producing 100% organic crops, Union Organics is your one-stop solution provider for all your organic farming needs.
Our wide range of products include organic fertilizers, plant tonic granules, plant tonic liquids, organic soil conditioners, humic acid granules, seaweed granules, seaweed extracts, amino acid granules, organic micronutrients, organic plant growth promoters, bio fertilizers, organic manure and organic plant protectors. All of our environmentally friendly products are cost-effective, easy to use and result oriented. Suitable for all types of crops in different weather conditions across India, our products are thoroughly tested at our experimental fields as well as in our state of the art research laboratory to meet our strict quality control requirements.
Thank you for moving forward to a healthy future for you and the planet.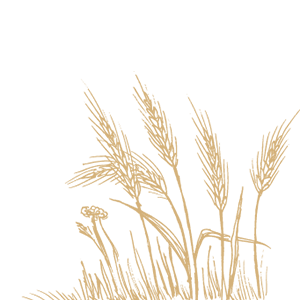 We passionately care about farmers, consumers and the environment
To empower, educate and inspire farmers to produce chemical free organic crops by equipping them with sustainable, cost effective and eco-friendly agriculture solutions that are beneficial for the environment, consumers and the farmers.
To become a global leader as a complete agriculture solutions provider by offering technologically advanced, eco-friendly and economically viable products and services that empower farmers and protect the environment.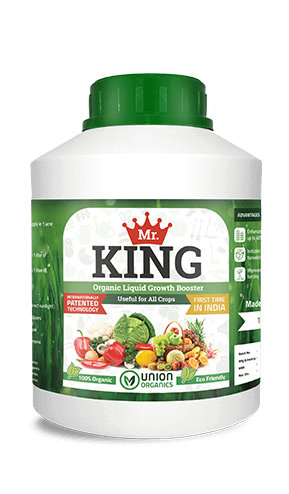 Mr. King – Organic Liquid Growth Booster
After more than five years of research, Union Organics has successfully developed Mr. King, a revolutionary internationally patented organic liquid growth booster that is produced from highest quality plan-extract through a process of bacterial fermentation. After being tested in different geographic regions of Gujarat and across India, our technology is recommended by reputed agriculture universities. Mr. King is an all-in-one solution that is packed with 18 essential elements and plant growth hormones. It naturally enhances crop yield by up to 40% and reduces the use of other chemical fertilizers and pesticides by up to 40%.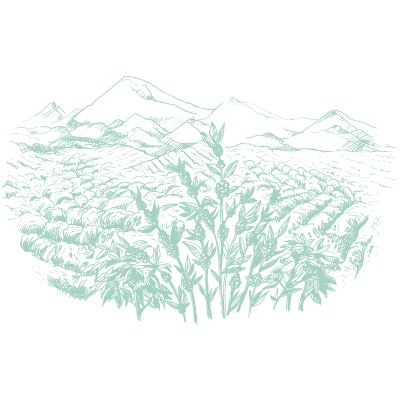 Sign up to stay in touch!